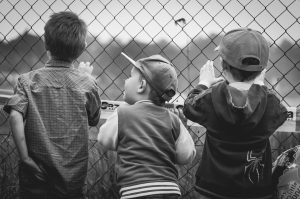 Once you have picked out personalized labels that your kids love, the next step is figuring out what all to apply them to! What are some great ways, either ordinary or creative, to use these personalized labels?
Iron Them on Clothing
Children have the tendency to take off jackets or shoes without telling any adults and just leaving these belongings in the oddest places. This tendency results in random clothing articles lying around at school or daycare and the adults don't know who the clothing belongs to. Labeling your kid's clothing that he or she may decide to take off is a way to guarantee that your belongings return home with you at the end of the day. This identification could also be useful in places such as bowling alleys, friends' houses, or swimming pools, where an abundance of kids' shoes will be lying around. You can avoid getting your kids' shoes lost among all the rest by using custom clothing labels.
Stick Them on Toys
Your child would be devastated to lose their favorite toy just because they misplaced it and the person who found it didn't know who it belonged to! Keep up with everything you buy and send along with your kids by putting personalized labels on the toys and gadgets they want to take to school or daycare. This will be a tremendous help to your child's teachers or caretakers.
Apply Them to Backpacks and Lunchboxes
Make it easy for your child and for his or her teachers to identify which backpack belongs to your family, as well is which lunch is theirs! This is a fun way to personalize containers that you send your kid's lunch in, and also to ensure that the containers make it back to you for re-use!
Personalize Gifts and Presents
Personalized labels can add the perfect finishing touch to homemade crafts, and will ensure that the name of the creator is never forgotten. Your kids can give their crafts as gifts to their grandparents or friends who will love a personal, handmade item, and with the labels attached then the recipient will always know who gave it to them! If your kids help pick a label design that they love, then the label can seem like part of the craft itself!
Brand Their Books and Belongings
In a home with multiple children, it's not uncommon for the kids to argue about what belongs to whom. Labels can be a way to settle those arguments before they even begin! Personalized, fun labels work great on the inside of book covers or on the bottom of electronic gadgets such as handheld gaming devices! It not only avoids confusion within your home but also identifies the object's owner if your kids choose to take those items somewhere out of the house.
There are still many more creative ways to use personalized labels, so check out all of the options offered by Baby Smiles Labels and look for labels that your kids would love! These fun, creative labels will ensure that everything you send along with your child comes back home with them at the end of the day.