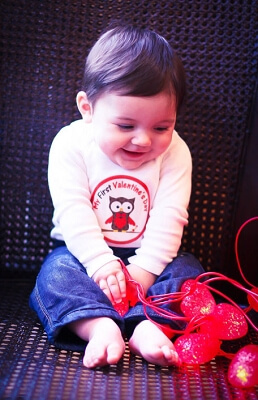 There is no more joyous event than a new baby. A new life is a great reason to celebrate and bring families together. With a new baby comes many new gifts, and when it comes to babies, there are lots of choices out there. If you're looking for something truly unique for your baby, consider first holiday stickers. These are both adorable and practical. Here are just some reasons to consider buying baby first holiday stickers:
Unique Baby Shower Gift 
If you want to give a gift that will be remembered and treasured forever, these kid's labels fit the bill. Most people concentrate on tangible items like clothing, car seats, rattles and toys. First holiday stickers and other clothing labels are a great way to show that you have given a lot of thought to your gift. If there are older siblings, there are "big brother" and "big sister" personalized labels that will make them feel included in the process.
Scrapbooking 
First holiday stickers and baby photo stickers make great mementos and can be put into a scrapbook after they've been used. A first Valentine's Day sticker can be put into a Valentine's Day scrapbook, or a First Years scrapbook.  Party favor stickers and even daycare labels can be put into a scrapbook for you and your child to cherish forever. Whether you put it in a scrapbook, a photo album, or in a shoe box, these are sure to bring back many memories as the years go by.
Photos 
Whether it's a first Christmas, first Easter or first birthday, photos are inevitable! First holiday stickers will make the occasion even more special. Taking photos with the stickers on your baby will remind you of the special event and you won't have to guess at your child's age, or what event you were photographing when you review the photos years later.
Party Favors 
If you're having a birthday party for your child's first birthday, a first holiday sticker for your child can be accompanied by sticker party favors.  For family members, you can take photos and give them out – they are sure to be treasured for years to come.
Reusable 
Baby's first holiday stickers, photo stickers and others can be reused. Baby smiles labels can be used once a younger sibling comes along, saving you time, money, and effort.
Grandparent Gift 
Have a photo taken with your baby with his or her first holiday sticker. You can even get a special label or sticker for grandma and grandpa! Then have the photo framed and present it to the grandparents as a gift. It is sure to be a gift they will proudly display in their home. What grandparent doesn't love to brag about their grandchildren? It's a fun way to create mementos and keep those memories alive.
First holiday stickers are a fun way to celebrate your baby's first holidays, from January to December. They come in bright, colorful designs and will enhance any occasion. They make a great gift for new parents and can be saved as mementos for years to come.
BabySmilesLabels specializes in kids clothing labels, photo labels and first holiday stickers. Visit their site today to learn how you can enhance your child's first holidays.