[su_column size="3/5″]
Awww… so cute! What a wonderful way to capture your baby's first holidays with these adorable photo stickers! No need to buy a different bodysuit to celebrate each holiday.  BabySmiles photo stickers look absolutely adorable on babies for picture taking.  You will love this new, fun way to capture your baby's first holidays!
· Set includes 12 stickers for First Holidays (see pictures above)
· Beautiful sticker designs make a stylish top or bodysuit for picture taking
· Easy to Use – just peel, stick & snap some photos!
· Super Durable stickers can be removed and reapplied for multiple photo sessions
· Waterproof and Drool Proof stickers
·  2 sticker material options to best suite your needs
·  Highest quality printing with vibrant color images
·  A perfect, unique and affordable gift for baby showers, mamas-to-be and new mommies!
· Beautiful packaging fits perfectly into a gift basket or greeting card for easy mailing
It's That Easy – Just Peel, Stick & Snap!
Peel and place the sticker on your baby's bodysuit or t-shirt on each holiday.  Grab your camera and snap some beautiful pictures!  You can remove the sticker for scrapbooking after each photo session.
Use these beautiful monthly photos for scrapbooking, blogging, sharing on Facebook or online albums with friends and family so that they can watch your baby grow!  At the end of first year, you will have a wonderful collection of baby pictures which are perfect for birthday invitations and calendars!
**Note: Please do not leave the sticker on baby unattended.  Remove sticker before washing. **
BabySmiles Photo Stickers are 4" round and are made of two types of sticker materials (transparent or white matte).  Please choose the type that best suits your needs.
TRANSPARENT STICKERS
– looks best on WHITE clothing or LIGHT COLOR plain clothing
– when applied on white clothing, transparent stickers look so beautiful on pictures as if they are *part* of the clothing.  Just like an "iron on transfer" but without the work of iron on – how sweet!
★ Tips: Best to select "transparent stickers" if you are planning to use the stickers on "white clothing".
WHITE MATTE STICKERS
– looks best on any COLOR clothing or PATTERNED clothing
– once applied, looks more like a sticker but pops in photos!
★ Tips: Best to select "white matte stickers" if you are planning to use the stickers on "color or patterned clothing".
[/su_column]
[su_column size="2/5″]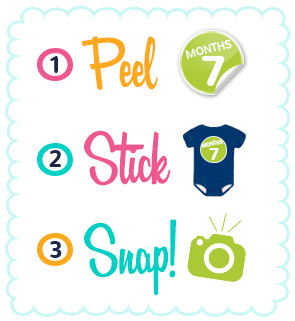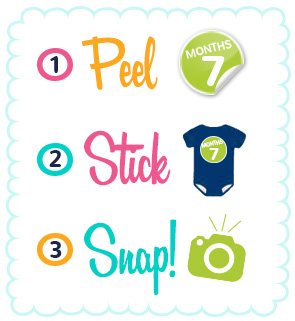 [/su_column]